Next tournament:  Sunday October 14th, 2018.  Concord Carlisle High School, Room 241.  The format will be 4 round Swiss, G/30 d5.  Section 1: Age 11 and under.  Section 2: Over age 11
Please arrive at 11:15 to register at the door, or pre-register online to arrive at 11:30.
Pre-registration: Click here
USCF membership: Click here
If this will be your first tournament, we will teach newcomers about recording moves and how to work the clock (so be sure to come early).  The format described above means each player will have 30 minutes total for all their moves.  This means each round could take as long as an hour.  And there are 4 rounds.  If you'd just like to try it, you can just come for the first game or two.  At the end, you will have a nationally recognized USCF rating!  To play, you will need a USCF membership (yearly $17), and pay a small entry fee.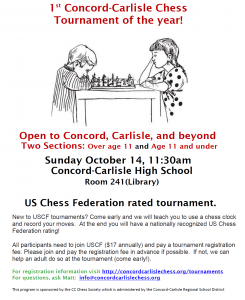 We will have 3 or 4 USCF-rated tournaments per year at the Concord Carlisle High School, 500 Walden St, Concord, MA.